An Evening with the TSC
I finally join the TSC (the storyteller club)watching 'Love Letter'.Award winning movie in 1995 by Shunji Iwai.
Thanks to
Ted
, I was in the list of 25 members who got the chance to join the club watching movies with
Yasmin Ahmad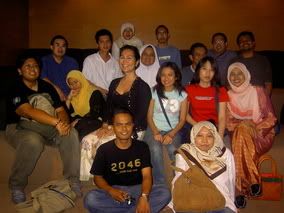 TSC taking photo with Kak Min
This japanese movie reminds me of Winter Sonata.Well, it is about love. About the feeling which Watanabe Hiroku can't let go, even her fiance , Fujii Itsuki has passed away 2 years ago.
About Fujii Itsuka (A girl)who coincidently has the same name with Watanabe's fiance.Watanabe wants to know more about her ex fiance since Fujii and Fujii was in the same junior high school.From than, secret reveals which surprise not only Watanabe but Fujii herself.
During the 2 hours I feel that I was in the movie itself. I was in a totally different world.hmmmmm.
It was a good gathering, I wish I can join again watching 'talk to her'.And by the way, I only knows a few members that nite, me being first time there.I met eka,aliya, kekure,juliana,ted,jasmin,pet and the guys hoho, I still did know whose who.
Can't wait for the next screening.For those who interested to join just go and read
Yasmin Ahmad
blog and participate in the comment.