Mari Mari ke Perpustakaan Kuala Lumpur
Minggu lepas saya jalan2 ke blog orang, termasuklah blog
orgkampung
bercerita psl hobi.
Well, one of my hobbies yg berbagai is reading novels.I started when I was standard 4.Well, before that taklah minat sgt nak membaca.Still remember the first book I borrowed from school libraby is 'anak raja ngan anak papa'Sejak itu, kegilaanku bermula.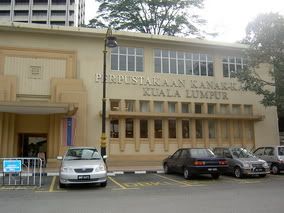 "Perpustakaan Kanak2 KL"
Saya sudah menjadi ahli
KL library
ni sejak dari sekolah rendah lagi.Masa itu building lama yang sekarang tapak itu telah di bina Perpustakaan kanak2 KL.Yezza, they have their own building for the children.
For the adults, 13 years above,hola, another big building just beside it.
I started become an active borrower again last 2 years.For the new building, kena daftar kembali and pay for the annual fee of RM20.So cheap one.For new member kena bayar registration fee of RM6. Well, dia banyak kategori, standard, premium, warga emas,kakitangan dbkl and seumur hidup.Check it
here
.

Anis dok nyorok.malulah...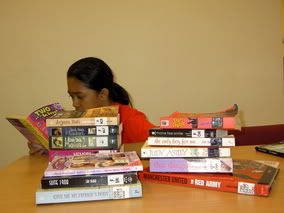 Anis ckp "Cepatlah umi.Nanti org nampaklah."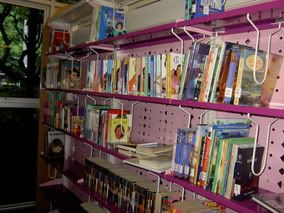 Books for teenagers

**note: actually librarian tu kata tak boleh take pictures, errr I only ask them lepas dah ambil gambar2 ni lah. :D ***
All my 5 children become members also.They can borrow 5 books each.I will bring them normally on Saturday. Leave them there and I'll go and search for my books next door.
I sometimes go on weekday also with my collegues during lunch time.Sanggup tak lunch.There was a promotion for free membership for a year.Apa lagi, berduyun2 lah my collegue pi register.Menda free.:D Open one for my husband and one for Peggy.So, I can borrow 15 books at one time.Peggy will read only two books the most during the 3 weeks and whalla, the rest I read.;)) tamakninah betul. Well the reason pinjam byk2 sekali is senanglah tak payah berulang alik. We can always renew for another 3 weeks kalau tak sempat abis baca semua.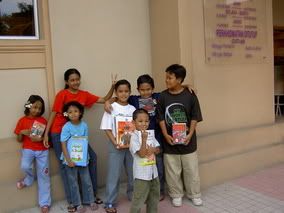 My 5 beautiful children with their friends
My selection of books is mixed.I will borrow at least 5 malay novels and 10 engish books. I like murder,kidnap, mystery,abuse,occult book.I also read love stories, real stories and any thing that looks interesting to read.
There was one time I came accross this book, 'a child called it' by Dave Pelzer. Sanggup pergi book store and read the book there. Finally, manage to borow the book at the library. Habis satu ofis, I ask them to read.The sequals pun ada.Mostly new books apa lagi I will go crazy everytime I went there. :D. Selalunya I will choose at least 20 books and put it on the table. After that upacara pemilihan.Masa tu arrrghhhh, semua pun mao.hehe Finally pick the best saja lah. Well, can always come and borrow the other books.We can reserve the books yang kita suka and the librarian will keep for us.We can also search for books by author,title etc at the computer search.
Well,now, I got 15 books to read in 3 weeks and kalau tak sempat renew saja.After dah pinjam 15 books,suddenly I saw this book about digital photography. Menarik ni.Bolehlah kasi
Lan,my adik lelaki kesayangan
pinjam ni.So, I just booked this book.Next round datang boleh just ambil saja this book.

Among the books I borrowed....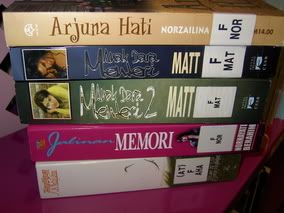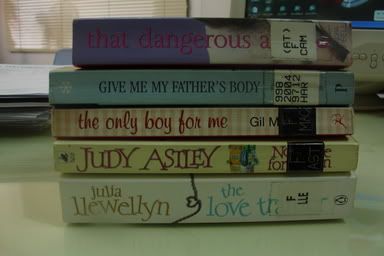 My first book this week that caught my attention is 'the Love Trainer BY JULIA Ilewellyn. At the cover reads "Men are like puppies, THEY NEED TRAINING'" Sound interesting......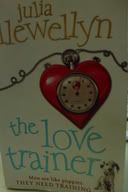 ******
Facts abt KL library
******
Perpustakaan Kuala Lumpur
No. 1, Jalan Raja,
50050 Kuala Lumpur
tel : 03-26123500
faks: 03-2693 7313
emel: pkl@dbkl.gov.my
website:klcitylib.dbkl.gov.my
Waktu Perkhidmatan
Isnin
2:00 ptg hingga 6:45ptg
Selasa - Sabtu
9:30pg hingga 6:45ptg
Ahad
11.00pg hingga 5.00ptg
Perkhidmatan ditutup pada:
* Sabtu dan Ahad minggu pertama
* Sabtu minggu ketiga
* Cuti Umum