PRAAAPP COOKIES ANYONE?
Marey mareyy mareyyy,
PRAAAPP HOMEMADE COOKIES FOR EVERYONE.
.TIDAK KIRA TUA ATAUPUN YANG MUDA..
Hi everybody!
Guess what? We has carefully selected seven delectable, YUMMY, tasty, crispy (are you drooling already? Hehhe) Praaapp cookies for this coming Hari Raya. I tell you, not only they're yummy, they're *melt* in your mouth.
So, onwards, seven types of biskut raya from us to you.
BLACK MOUNTAIN ----------- RM25.00
PINEAPPLE TART ------------ RM25.00
LONDON ALMOND ------------ RM25.00
COCONUT ALMOND ---------- RM22.00
CHOCOLATE OATS ----------- RM22.00
PEANUT BUTTER DELITE -- RM22.00
BATANG BURUK ---------------- RM15.00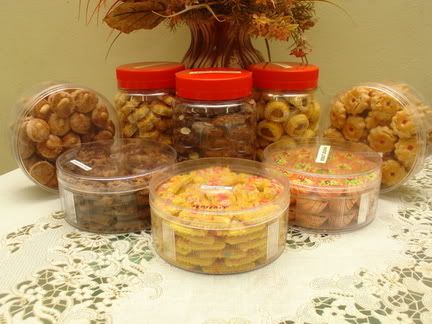 The cookies are as per the photos. Yummy kan? But we will do something extra, just for you. The cookies will be exclusively packaged and labeled so you can even buy Praaapp cookies for corporate or personal gifts to your clients, family, friends and associates! Just to let you know, we also does hampers of Praaapp cookies.
So what are you waiting for? Come and order already! Make your way to the official
F.C.O.K website
or place your orders at praaapp@gmail.com. Make sure you put in your name and contact number so it will be easy for us to contact you.
That's not all. There will be a surprise in store for all purchasers. The more you buy, the higher the chances for you to *WIN* the surprise. What is it? Well…you'll just have to watch this space!
Further Info:
The cookies will be placed in nicely wrapped containers with our Praaapp label. The number of cookies will depend on the size of the cookies. Senang, cerita, semuat balang kueh ittew lah.
This is our approximation:
Pineapple Tart -50 pieces
Black Mountain - 100 pieces
Other cookies - 60 - 70 pieces (mengikut size cookies dan semuat balang)
Tunggu pengumuman selanjutnya for our
SURPRISE Announcement!!!
Specially for our friends who have ordered the cookies.
Praaapp always.