Connection with Kefli - the event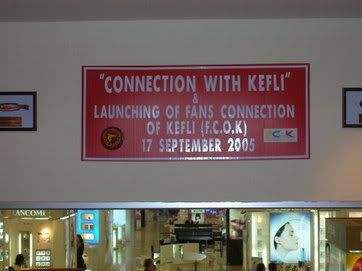 Majlis perjumpaan dengan fans Kefli dan pelancaran fan club serta website n official t shirt n cap telah berjaya di adakan seperti yang dirancang pada 17hb September 2005 yang lepas.
Setelah merancangnya selama seminggu lebih,akhirnya berbaloi juga.Of course I won't say that ia berjaya perfectly but than mana ada majlis yg sempurnanya kan.Ada juga lah yg terkilan n I feel we should do better but than overall I'm happy and satisfied.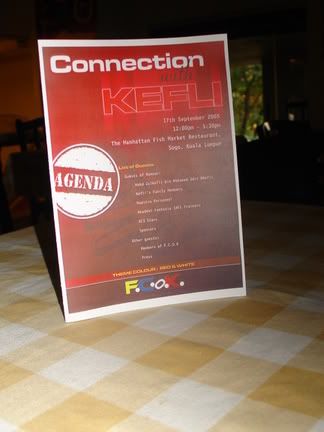 Yang ketaranya, the room is too small for the number of people yg datang and I feel sorry for them. So, bila dah ramai and ruang yang kecil, so suasana akan agak tidak selesa kerana agak panas dan nak bergerak pun agak sukar.
It's our faultlah pasal mama and ayah dah suruh we all cek tempat tu dulu tapi kerana kesibukan dan kesuntukan masa this thing being ignored without noticing.*Ralat* Saya minta maaf kat mama sekiranya terasa dengan entry ni.There is nothing wrong with the place overall only that we should have it at a bigger place or lessen the people.Tanpa mama's help in finding the place there will be no event at all.
The PA system and the mc can do better to make the event much more livelier but thanks to faiz yang telah menyelamatkan keadaan.
And the rest, I feel happy because semua AJK telah menjalankan tugas mereka dengan baik sekali walaupun terpaksa berdiri dan yang bagusnya mereka ini tak payah di suruh, infact they come to me and offer the help. :D
Leo the president dengan rambut teknik rebondingnya,*wink* have done her role as the president and I'm proud of her.
Kefli as the 'man of the day' telah muncul dengan bergayanya dan telah melayan semua yang hadir.And you know what, even my husband praise him when he sing "ratuku'. I personally proposed him to sing this song since he did it very well masa di rakaman konsert reunion yang lalu.Terkasimaa yeww.:D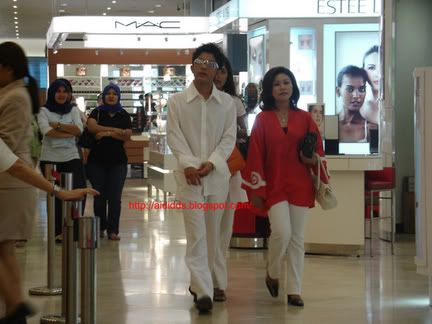 Kefli with his mother walking towards me. :D
Ok guys. I'll post entry on the event on the extended version later.
ps. Telah lahirlah seorg bintang baru yang bakal menandingi adam di kefli's gath tersebut. aha tak tau... rangkap kedua rangkap keduaaaa.