Lets Get Connected again - sambungan
Pre Gath
Proposal about the gath dah hantar lama ke Maestro tapi takde jawapan jugak. Finally Leo dapat bercakap ngan Aman world,than he said ok,proceed.N I think masa tu cuma 10 days from the gath.Apa lagi cam lipas kudunglah we ols.
Mostly fans Kefli ni student yang sukar gak nak jumpa2 ni. So, for this gath preparation mostly done by a few ajks yang senang nak bergeraklah. Keranamu Kefli...
Agenda dah siap awal tapi yang major things like montage/slide show tak siap-siap lagi begitu juga Website n tshirt. Banyaknyerlah.
Alhamdulillah, tugas dibahagi-bahagikan dan dijalankan dengan jayanyer.
Thanks to Mama yang handle all about food and the venue.Everything is taken care off katanya.To Elly yang bersengkang mata menyiapkan montage and website.Beberapa kalilah kena suruh tukar itu ini.He just smile and angguk2 aje. :D (geleng2 takde yer)
To Leo yang sampai takleh nak bukak mata masa meeting dirumah Mama.Tapi bila pi umah Kefli amek gambar untuk door gift terang plak mata yer.Dapat post-post yang istimewa dari Kefli.
*He is damn cute*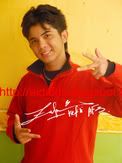 Praaapp!!!
2 days later pi lagi untuk masukkan gambar ke frame ikea.Tacap-tacap montage n website and finally on Friday night pi tgk the place for seating arangement semua. Walla!!! terperanjat yeww. Our fault tak pergi usha awal tempat tu. Quite small and tetiba ramai plak tetamu yang nak hadir. So susun2 kasi muat gak ler.
Helmi, Mama, Leo, Elly and Abg Man
Lepas Sogo pi balik opis Leo abiskan kerja2 last minit.Balik kul 4 pagi.Esoknya pagi2 dah bangun kena pi Sogo 'The day'.
The day
Pukul 10.30 dah sampai Sogo.I'm incharged on registration so kenalah yang paling awalkan.Selang beberapa minit datanglah mak Khairun. Bagus betullah.Sampai2 trus tolong I gunting2 tampal2. hehe.
Mama sampai lepas tu and the others AJK. Memasing tau tugas mereka. Brief sket saja.
Taraaa, president kita dtg dgn rambut teknik rebondingnyaa. ecewah.Trus bz to make sure everything is in order.
Pukul 11.30 fans dah datang. Bagus nyerr,meja pendaftaran pun baru nak susun2. Baru nak potong2 no. utk lucky draw. Nasib baik ada Shaliza yang menolong.The usherers - Julie,Diela,Mas and Zieg sibuk mengiring them to their seats.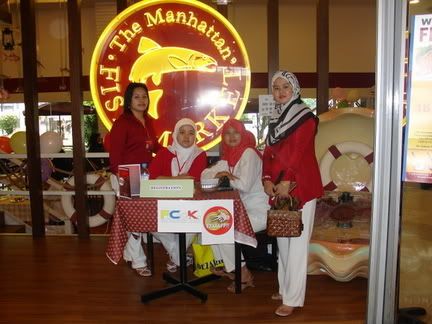 "Mari mari mariii"
Pukul 1pm mostly semua orang dah sampai except a few guests.Since Kefli terlibat juga dengan Anugerah Era, we have to make it according to the agenda. He has to leave early but at the same time,we want fans to be happy.One of the guest quite surprise when we actually follow the timing.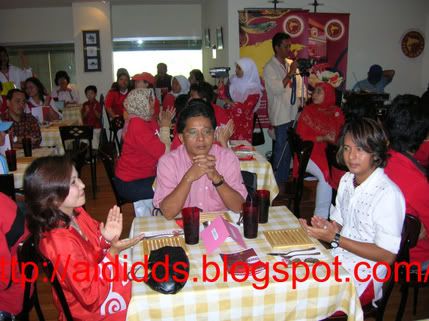 Puan Aida, En Idir (Kefli's parents) and Wan (fesyen designer)

Majlis di mulakan dengan bacaan doa oleh rakan mama,folowed by speech by the president and Kefli. Thanks to Nik yang sudi prepare the text ucapan.Lunch was served by giving soup of the day.In between,Diela, goes around and ask around to pick for 6 lucky nos. Congrats to the winner.:D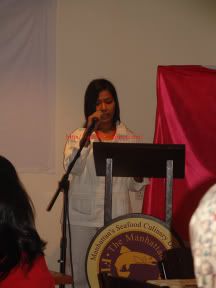 "Testing one two three. Cubaan suara"
Next,montage and official launching of FCOK website.Followed by TShirt and Cap launching.I really like the tshirt and cap. Thanks to
Lan
for the design. Infact,
Lan
is the official designer for
F.C.O.K
- dari invitation kad,agenda,tag,banner,logo,tshirt and cap,label and more to come.Mas and Zieg siap jadi model lagi pakai tshirt and walk around :D About the tshirt,will put a new entry to promote our brand new merchandise.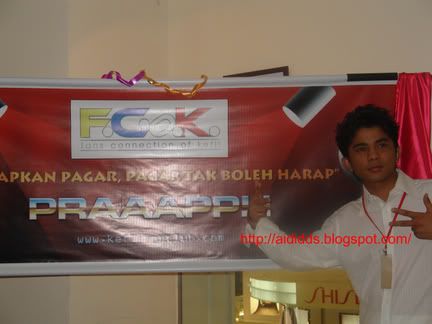 Kefli dgn banner FCOK
Kefli performs Ratuku dengan excelent. Dah advise him that he has to mingle around with his fans and guest when he sing. Yes, he did,and Diela sure tak leh tido malam.*wink*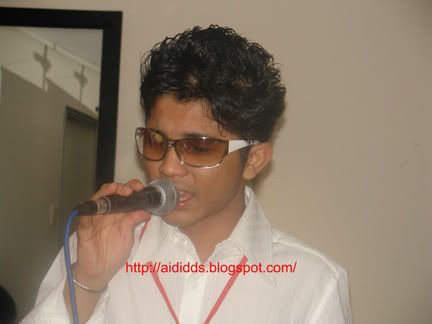 Penuh perasaaaannn

Next he sing Berhenti Berharap - lagu berhantu. I can't get enough of this song.Atas permintaan ramai, ye ker, Kefli perform Senja nan Merah bersama adiknya yang jelita,Julie.Superb!
Rasanya this kind of song suits him besides lagu seperti Hati Emas.
After the song,with the help of Helmi and Faiz, they organise games (Thanks Faiz,you are talented as an M.C.)- Limbo rock. Kelakarnya.We have to change game from musical chair to kuizes since tempat sempit.
After the games,press interview Kefli with reporters - URS,Berita Harian,Bintang Hit and Media Hiburan.In the mean time,we continue the games,kotak beracun. Its quite funny and entertaining. Adik Ijin telah dapat dicungkil bakatnya.'Rangkap kedua rangkap keduaaa'.Thanks Ijin for being very sporting.*wink*
Habis press interview,Kefli bergambar bersama fans. We asked per table to come infront taking photos with Kefli.Before that, Tahniah to Asnita dapat hadiah utama - makan bersama Kefli lagi.And to Norashima (member Mas)for winning Personal item from Kefli. jaga baik2 tau. Kefli ckp jgn mandrem plak. hehe.
Oh yer, M Nasir did turn up with Marlia Musa altho they come a bit late.An honour to us sebab sudi hadir walaupun last minute jemputnya.Ditemani oleh Mr Freddy,they all sit and watch sambil Abg Is ( my asbenlah) borak2 melayan. i ask him did he knows them personally, he said nope.Cam dah kenal lama je. Thanks dear. :D
Freddy, M.Nasir, Marlia, Abg Is, ZZ and Anis
"Smile..!!" AJk pun nak gak bergambar ngan Kefli
Kefli went back around 4.30 and everybody feels happy. At least we do.Mama arrange for food for the AJKs. Finally. makanlah sambil borak2.
AJK baru nak makan. lapaaa..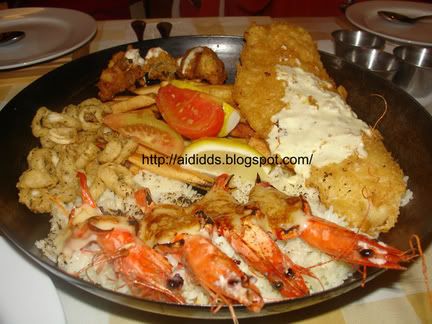 (nyum-nyum)
Thanks to everyone yang hadir
- all the fans and fellows AJK - Mama, Leo, Diela, Nik, Helmy, Zieq, Mas, Shaliza, Khairun, Julie, Aloy, Abg Man, Elly & Lan the Mika.
- To the guests - Abg Asrul and wife,Wan designer and makeup artist,Saiful, Datuk Jafri,Mr Freddy, M Nasir and Puan Marlia,Azlif (AF3) and Fahmi,SM and Kefli's parent
-*mak and bapak mertua* ;)
- Fellow media - Kak Cham and family,Media Hiburan,URS (Juan),Bintang Hit and Berita Harian
-My friends from PFS - Wai Em, Shay, Iffa and Abg Shalim, Ijin
(aha tak tau)
, Poi. Too bad Tokin can't make it.
- Ina Sri Rampai (Lyn)PA dan juga kakak kesayangan Kefli yang telah turun padang membantu kami.
- Kefli of course.*wink*
Oh yer, u can visit
Juan
and
Wai Em
for more.Please also visits our new website
F.C.O.K
Tanpa anda apalah gathering ini.
***The end.***