My Son Is In a Reality Show!! :D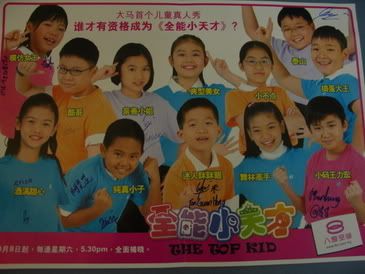 The Top Kid
Mak mana yg tak proud ek kalau anak dapat masuk rancangan kat tv. Well, its a reality show by 8tv. Yang uniknya this is sort of a game show and the contestant are all kids from age 9 to 11 and will be conducted in mandarin.
All the 12 contestants
I send my son, Azizi to chinese school since kindergarden lagi until now. It is not that easy for him to compete with other chinese with language barrier but I know my son, he can do it. :D Well, from time to time,we do ask him whether he can cope.Yani, my daughter spend only two years in chinese school and change to sek. kebangsaan in year 3.
My mom yang notice about this audition and ask me to send my children. Mana tau ada rezeki.Both azizi and yani went. A week after that we got the good news,Azizi manage to be in the 12 finalist. Alhamdulillah.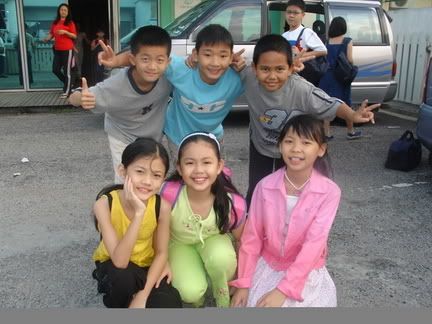 Azizi and his group
Basically, it is a game show like Apprentice. Comprise of 2 teams, team A and team B. There will be 3 girls and 3 boys in a team. Each week they will perform a task. Quite challenging and the children enjoy themselves. I know my son do. Among the task are acting,modelling,bake and sell bread at a shopping mall,shopping,rowing , cooking etc.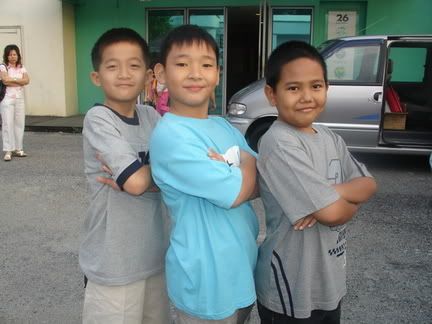 Best friend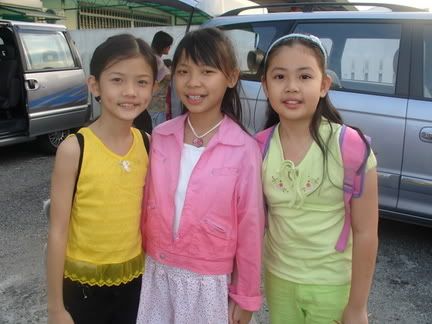 Comel betul budak2 ni
Team who loose unfortunately,one member will be eliminated.  There will be a judge who will give final say after taking consideration on all aspects. No sms is needed in this show. Phewww , selamat. :D. At first, the children in the loosing team will decide who to be voted out.However, many objection by the parents.Takut the children has hatred and ada backstabbing or dengki mendengki among them so 8tv finally agreed to change.
Each Saturday and Sunday, I send Azizi to the green cow studio at damansara and from there,they will bring the children to other place for recording.No, they don't allow parents to be around. Parents yang kepochinya.hehe. Biasalah kan. In the late evening,we will come at the meeting place again to pick them up.
I told Azizi to have fun and buat yang terbaekkk. Tak nak lah pressure. They did hire a psycologist to explain to those being voted out.
The first time one team member was voted out and unfortunately from my son's team, my son menangis teruk sangat. Sampai dia tak boleh tidur semalaman. Esoknya bila cerita balik, nangis lagi. Maknya pun boleh turut nangis.huhu. Mana taknya,tetiap minggu jumpa, so ada bonding among them.
Minggu lepas ada press conference di sri pentas.ramailah pihak media hadir termasuk coo 8tv, Ahmad Izham. Adalah tunjuk sneak preview sedikit. I cry terharu tengok anak masuk tv. Hehe.
Ahmad Izham bersama all the contestants
Wo de mingjiao Azizi
Azizi n Erica
Ok siaran rancangan ini akan bermula sabtu ni 8 October di 8tv pukul 5.30pm. The show will be in mandarin. Maybe ada subtitle kot.Tengoklah ek bagi yang mengenali Azizi in person especially.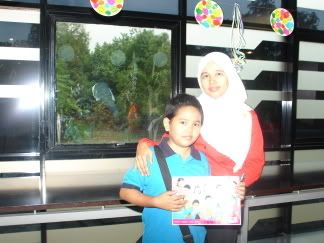 Me and my son
To my son, I'm proud of you for your braveness. Jadikanlah ia sebagai pengalaman dan kenangan yang manis sekali.